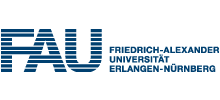 Friedrich-Alexander-Universität Erlangen-Nürnberg
Die Universität Erlangen-Nürnberg ist mit über 38.000 Studierenden die größte Universität Nordbayerns und eine gewichtige Größe in Forschung und Lehre weit über die Region hinaus. Ihr hohes wissenschaftliches Potenzial macht sie zu einem leistungsfähigen Partner für Wirtschaft und Kultur. Bewusstsein für Tradition und Innovation kennzeichnet die Friedrich-Alexander-Universität Erlangen-Nürnberg. Die Universität verfügt über ein Fächerspektrum, das in seiner Vielfalt und seiner interdisziplinären Vernetzung deutschlandweit einzigartig ist. In intensiver Zusammenarbeit mit außeruniversitären Forschungseinrichtungen und der Wirtschaft spielt sie eine Vorreiterrolle bei der Entwicklung von Konzepten und Technologien für die Zukunft.
Die Fakultäten der FAU:
Rechts- und Wirtschaftswissenschaften
Naturwissenschaften (Biologie; Chemie und Pharmazie; Geographie und Geowissenschaften; Mathematik; Physik; Optik, Information und Optonik)
Technik (Informatik; Elektrotechnik, Elektronik und Informationstechnik; Chemie- und Bioingenieurwesen; Werkstoffwissenschaften; Maschinenbau)
Medizin
Philosophische Fakultät
www.uni-erlangen-nuernberg.de
www.stellenwerk-erlangen-nuernberg.de
Friedrich-Alexander-Universität Erlangen-Nürnberg
With over 38,000 students, Friedrich-Alexander-Universität Erlangen-Nürnberg (FAU) is the largest university in Northern Bavaria and has a strong reputation in research and teaching that reaches far beyond regional boundaries. Its high potential in research makes it a strong partner for business and culture. Tradition and innovation feature strongly at Friedrich-Alexander-Universität Erlangen-Nürnberg. The broad range of subjects on offer and the interdisciplinary network at the University are unique in Germany. FAU also collaborates closely with many non-university research institutions and industry and it has a pioneering role in developing the technology of tomorrow.
Faculties at FAU
Faculty of Business, Economics, and Law
Faculty of Sciences: Biology, Chemistry and Pharmacy, Geography and Geosciences, Mathematics, Physics, Optics, Information and Photonics)
Faculty of Engineering (Computer Science, Electrical, Electronic and Communication Engineering, Chemical and Biological Engineering, Materials Science and Engineering, Mechanical Engineering)
Faculty of Medicine
Faculty of Humanities, Social Sciences, and Theology